Attach "GOOD RACK" with push-pins
What is "GOOD RACK"?
"Good Rack" is a parts of the shelf bracket that will be able to attach to the plaster board using 1×4 lumber.
We created "GOOD RACK" in response to customers' question "is there any way to hide the edge of the lumber?"
Also, you install this product by using a very thin pin into the plaster board. That means you won't make a big hole there!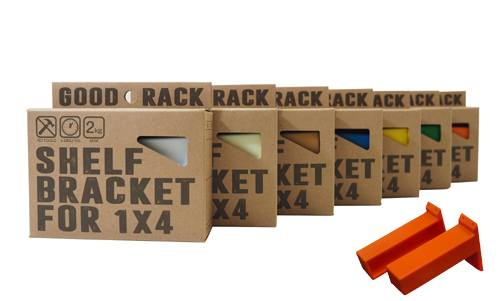 The color lineup consists of 7 options, white, ivory, caramel, blue, yellow, green, and orange.
How to install it on the plaster board?
you can install GOOD RACK in only 3 steps!
How to install

【Step1】
Set the 1×4 lumber into the "Good Rack" and adjust the position to install.
【Step2】
While holding the shelf board lightly, insert a pin into the lower hole with a coin. Push the pins vertically, so they do not bend.
【Step3】
Insert the pin into the upper hole while adjusting the overall tilt. Insert it into other side in the same way.
Shelf on the wall!

Weight capacity is less than 2kg when you use a 30cm length of 1×4 lumber.
It'll be hard to see the hole even if you remove it from the wall!
The pin which used with the shelf is very thin so that the hole doesn't see much from the wall even after it comes off!
Point01It is easier to remove the "Good Rack" from the wall when you lift it from the bottom and remove the bottom pin first.
"Good Rack" can be decorated in a multitude of ways.
Here are examples of the "Good Rack" arrangement.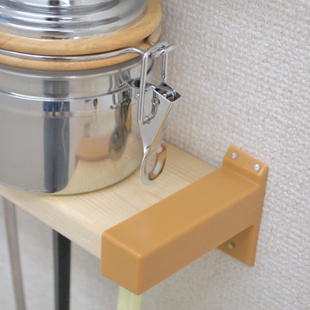 No decoration yet.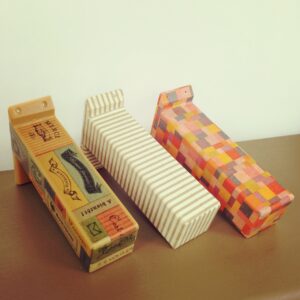 Decorated with masking tapes. It become original and will be the only one in the world!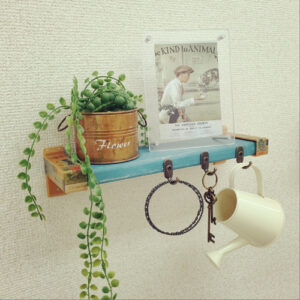 It'll look perfect if you decorate with masking tapes and by paint!
Example of practical use
Don't you have any space to store spare toilet paper in your bathroom? Use "Good Rack" as wall shelving and store it there!
You can also use "Good Rack" as a decorative shoe rack in your front entrance. You can store your shoes on hooks mounted to the board.
"Good Rack" is perfect for the kitchen. It will help you use space more effectively and you'll enjoy having plenty of room to cook!
"Good Rack" is always available at "Neji-Navi."!
Point02
"Neji-Navi."
is a comprehensive sales site for screws and other products run by Ohsato!
We sell a wide variety of screws and tools and so on, so please take a look!